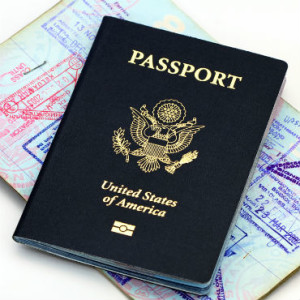 More Passport, More Questions
My passport is huge. I don't say this to brag. Not at all. It's just a fact. A standard American passport comes with 24 pages. You can request that they put in an extra 24 pages from the start, so then you'll have a 48 page passport. I did that.
When I was getting toward the tail end of The Happy Nomad Tour I was running out of empty pages in my passport. I'd need an empty page for the visas I'd get in the East African countries I'd visit (Ethiopia, Somaliland, Burundi, Uganda, Kenya, and Tanzania). I could either renew my passport or pay for extra pages. Extra pages was about $30 cheaper, but I preferred to renew my passport. When I was in Ankara, Turkey I went to the U.S. Embassy and asked what my options were. I could renew my passport but it would take ten business days. I didn't have ten business days, so getting extra pages was my only option. Hence, the 96 page passport made even thicker by many full-page visa stickers. After this doubling of my passport, the countries I visited at the end of the Happy Nomad Tour didn't really care and didn't really look through my passport when I crossed borders.
Below you can see my current passport on the right, my previous one in the middle with 48 pages, and my passport from when I was a kid with 24 pages.  The coffee cup is there to keep my current one closed since it no longer stays closed by default.
That was different on my latest trip, however. Neither China nor North Korea paid attention to my passport. When I entered Finland, however, the immigration officer literally spent 4 to 5 minutes flipping through every page of my passport three times. I have no idea what he was looking for. He asked me how long I was staying and where I was staying, and then the flipping began. He asked me nothing else. At the end of the page flipping he looked at me and said "You lived in Denmark." He saw this via my Danish work visa. I said yes. He stamped my passport and I was on my way. I try not to be rude, but I really didn't understand what all the looking was about. Perhaps it was curiosity, perhaps there is extra scrutiny given the migrant crisis in Europe, perhaps he was bored. Who knows. No questions were asked when I left Finland.
Entering Russia was a different experience. The immigration officer also looked thoroughly through my passport. As she flipped the pages from one to another, looking at stamps and visas, she came upon my visa for the country of Burundi. She held up the visa and asked me where this visa was for. I said Burundi. She looked at it again and then said "I said which country." Confused, I said "Burundi, it says so right here" as I pointed to the bottom of the visa where it clearly says République du Burundi and Republic of Burundi. Apparently she had never heard of the country. I later looked it up and the country does not have a different name in Russian.
On the last few pages were stamps for Georgia and Ukraine. She didn't ask anything about Georgia (where they fought in 2008 over South Ossetia). She did ask me where I went in Ukraine. I told her I went to Lviv, Kiev, and Odessa. In the back of my mind I thought "I went there before you guys stole Crimea" but what came out was "I was there before everything happened." Since Russians speak with minimal inflection it felt like an aggressive question, but a minute later we were talking about other things. She was telling me to make sure I don't miss the "White Nights" events happening around town. White Nights refers to the fact that the sun doesn't fully dip below the horizon around the summer solstice, and St. Petersburg had several things going on to take advantage of all that sunlight. She found an empty page in my passport with the picture of a cactus. She asked if I thought this was a picture of Arizona. I said it could be, or maybe New Mexico or somewhere else in the southwest. She said she had friends in Arizona so she wanted to stamp that page.
Leaving Russia I wasn't asked any questions. On the way back into Finland it was a similar experience. The immigration officer looked through my passport thoroughly. I thought maybe he was looking for my previous entry to Finland or my exit stamp from Russia. I told him which pages those were on, but he insisted on looking through every page. He just asked me the same questions as before, how long I'd stay and where I was staying.
None of these experiences were bad and I realize that my brothers and sisters from other countries face dehumanizing questioning while applying for a visa to visit the US, for example, let alone the questioning at immigration upon arrival. I'm not complaining. I just noticed that it seemed like I was subjected to more scrutiny with my bigger passport compared to past journeys to Europe where they paid no attention to my stamps. Again, it could be a result of the times and the era we live in now. I don't know.